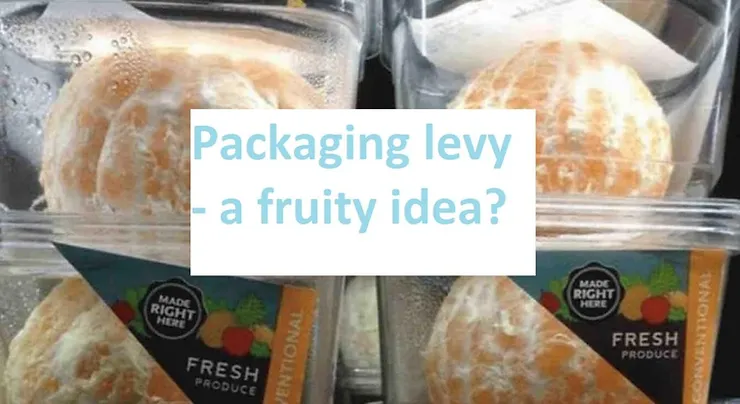 We cautiously welcome the proposals by officials in the Department of the Environment to Minister Simon Coveney, to take measures to tackle the problems of litter and landfill waste caused by consumer packaging and single use containers. (This was announced on 19th July 2016). This tax proposal for a packaging levy will also provide some extra revenue for the Environment Fund at a time of reducing inflows from the plastic Bag Levy.
We are,however, cynical about the move at this time since this was already examined by Mr Paul K Gorecki for the Economic and Social Research Institute and published on 1 May 2013 (by the Dept of Environment, Community and Local Government) under a report entitled 'A Packaging Levy for Ireland?' and no action was taken at that time. We also think this does not go far enough to solve our current litter scourge.
Why now?
We all know what we want – less waste and less stuff to discard.
So the logic goes like this. Put an extra cost , a Packaging Levy, on single use packaging items like polystyrene & paper cups, liquid containers (bottles, cans etc) and we will encourage consumers and vendors to think about avoiding this cost. Just like what happens with plastic bags. Th
Disposable packaging in all forms should be targeted for elimination and this is a small step in this direction.
'This proposed packaging levy will be an incentive for the use of re-usable, recyclable, compostible or bio-degradable containers for fast food outlets or take outs.'
Show me the money. Adding the Packaging Levy tax revenue to the Environment Fund will ensure shortfalls from the plastic bag levy are compensated for. The fund is used for environmental purposes and in line with the Extended Producer Responsibility principle. Since being introduced in 2002, the Plastic Bag tax has raised over €230 million to date.
Due to the success of the plastic bag levy on material going to landfill , which has resulted is a large decrease in the volume of Plastic bags in landfills, the revenues to the Environment Fund have been falling while the demands on these funds have been growing. The amount raised by the two levies fell by almost €12 million between 2013 and 2014 – from more than €58.1 million to €46.4 million. The EPA is a big beneficiary in this regard. The pressure on this pot of money is growing so it is no wonder that in budget constrained times like this, proposals of this nature are attractive to cash strapped governments.
Focus on functional re-use at highest level. Plastic bottles and food containers are generally the largest volume of litter items we find in roadside dumping. Beaches, rivers and the Sea are plagued with plastic bottles and containers. Our Oceans are heavily polluted with plastic of all shapes and sizes, giving rise to floating islands of plastic debris in the Pacific. They take millennia to breakdown. We simply cannot continue harming our planet and wildlife like this. So this initiative, however motivated, is welcome but must go further and require re-usable packaging materials to be used as a default situation.
Bonus steps – beyond a packaging levy
But let's go one or two steps further than a Packaging Levy right now –
let's ban outright the use of Polystyrene fast food containers. It's already happened in Zero Waste cities like San Francisco, Toronto and Paris.
In the interest of recovering the highest value of re-use, let's also consider Deposit and Return schemes to be operated by the market participants (producers, distributors, retailers and consumers). This needs no intervention by the State once mandated. e.g. for aluminium cans, bottles. Schemes are in operation in Greece, Germany and Denmark so let's follow their lead. This is a job creation opportunity so why wait?
Warning signs.
As is generally the case with new taxes, there may not be widespread acceptance of these proposals from Recycling Industry incumbents. Back in September 2011 the then government proposed a packaging tax aimed at reducing waste which was branded unnecessary by groups representing retailers and industry recycling group, Repak. They feared that this proposed new tax would result in an increased cost of goods and would result in double taxation on retailers. Retail Ireland, the IBEC group, said the levy would not lead to a reduction in packaging waste, but instead damage competitiveness and further harm the vulnerable retail sector. Let's hope they have been enlightened since then and have changed their views.