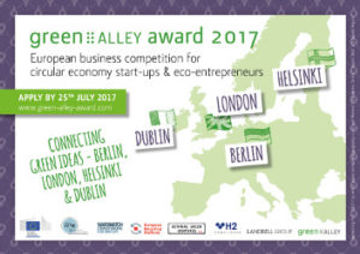 Green Alley Award 2017, is it for you?
Want to make a difference in the world of the Circular Economy?
Well maybe this competition is right up your alley!
Are you a green start-up or eco-entrepreneur with a brilliant idea in the green and circular economy sector? Then apply now for the Green Alley Award 2017 and become one of Europe's leading sustainable start-ups!
Start-ups can submit applications at www.green-alley-award.com until 25 July, 2017.
Last year nearly 200 applications from more than 50 countries took part. This year will be even bigger, so get your ideas ready and apply now. Why waste time?
So, exactly what is The Green Alley Award?
It's Europe's first start-up competition focused on the circular economy. In the Circular Economy nothing is wasted. Everything is viewed as a resource for further use or re-use. New skills, new technologies and processes are emerging to support a re-designed Product lifecycle and opportunities are abundant. Creativity is the limit of our ambition to circularise our current linear lifestyle. So competitions like the Green Alley act as catalysts in exposing new ideas.
It's got some serious backers, like core partners Landbell, Seedmatch, ERP Finland, Bethnal Green Ventures, H2 Compliance and R2PI. Green Alley is looking for great green ideas, new services, products and technologies that can turn today's waste into a re-useable and re-workable resource. In return, we offer strategic support, networking opportunities and expertise in entering the circular economy across Europe.
What are we looking for?
We are looking for entrepreneurs, innovators and start-ups dedicated to new developments in the waste management sector and the green economy. They should be as passionate as we about finding new processes and ways to help the environment while also providing a benefit to companies and consumers.
Business ideas can encompass resource conservation and sustainability, material recovery and reuse, recycling and upcycling, recycling management and CO2 savings – the more innovative the idea, the more can be achieved and built together.
We support these ideas and promote young entrepreneurs, who want to grow with their idea but have not yet been heard and supported.
What do you need to do?
Just 2 simple steps really.
fill out a short start-up profile: please give us the most important facts about you and your start-up
send your pitch deck, introducing your business idea in a more detailed manner
Before you rush in have a look at the application guidelines Green Alley Award 2017 before you continue; it will help you to really convince us! Preparation pays off.

About the Green Alley Award
The Green Alley Award is given once a year to entrepreneurs and start-ups of the circular economy, organised by a network of partners in the Circular Economy and European entrepreneurial scene. Green Alley, the initiator, has been working with Seedmatch, Germany's crowdfunding pioneer, since 2014. Additional partners include the London accelerator Bethnal Green Ventures for technology driven start-ups in environmental and social areas as well as the European Recycling Platform (ERP) Finland, a recycling supplier for electrical and electronic equipment and batteries. This year's lead partners are H2 Compliance, a global REACH service provider offering full regulatory support as well as R2PI, a Horizon 2020 project.