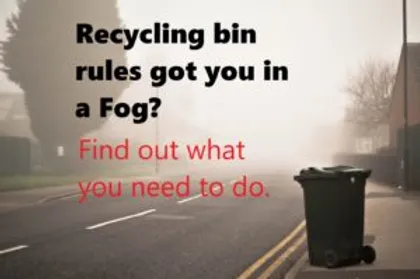 Are we working as unpaid staff for the recycling companies?
It might seem like that when you read the revised green bin collection guidelines given by the Co Councils for household waste recycling. We must sort, separate, loosen, wash, clean and dry our materials before they go in the green bin. That's hard work and we still have to pay them to have it taken away.
It was a surprise to listeners of Cork's 96FM Radio station this week when we discussed the apparent 'new green bin rules' outlined by the Councils through the Regional Waste Management Authorities. These rules were always in place since 2014 but never policed until the rejection of recycled waste shipments by the Chinese in the past few months put waste shippers under pressure to improve their quality controls. This has resulted in a call going back to consumers here to provide 'cleaner' recycled materials. Rejected materials cost the waste shippers dearly and will result in higher prices here to consumers ultimately as they have to re-work the materials before re-exporting. (we don't really do a lot of recycling in Ireland in actual fact. Our apparent 'good recycling rates' are just collection and export for recycling abroad. We really need to do more real recycling and remanufacturing in Ireland and create the green jobs here. But that's another blog topic.
More info: PJ Coogan on Cork's 96FM Opinion line discusses the issues with waste quality rules now being enforced on households.
Why should the items be clean and dry?
If your container contained food or liquid, then some residues will remain. These will contaminate the recycling process so they must be rinsed clean to remove the matter before going into your recycle bin (green bin). Food and liquid can contaminate the materials in the recycling bin especially the paper recycling process. Wet paper cannot be recycled.
Why is there a new list?
It's not a new list. It will vary from area to area depending on recycling facilities available. Recycled materials such as paper and cardboard, metals and plastic are sold on the global market, by the recyclers but the prices and demand for these materials constantly change. To get the best value for our materials, they need to be cleaned and sorted. China and India are major buyers of recyclable material from Europe and they use these materials for manufacturing instead of extracting raw materials. As stated above, over the past year, China and India have enforced higher standards on received stocks. Mixed materials such as plastics, paper or cardboard baled together or contaminated items (or those containing unrecyclable elements) are being rejected. To sell our bulk recyclable materials we need to be able to separate these materials quickly and easily at the recycler depots and ensure they are contaminant free.
The cycle starts with the householder. So there are 2 things to do.
Sort and clean the recyclable items from the non-recyclable ones.
Only put into the green bin those items allowed. Put them in dry, clean and loose.
What about paper food containers. What is recyclable? Any paper food container that has been soiled with food or become damp is not recyclable and should be put in the residual bin or composted. For example, pizza boxes and other fast food or takeaway containers. (The contamination will impact the paper recycling & re-pulping process negatively so we must avoid them).
Tip. Remember you can always just tear away or cut out soiled areas of these boxes and recycle the undamaged parts. This is worth the effort if only a small area has become contaminated.
Paperboard food containers such as cereal boxes, paper egg cartons, and cake mix boxes that are unsoiled are recyclable. Just remove the plastic lining and shake out extra food crumbs.
Empty frozen food boxes should be placed in the recycling bin  (green bin) along with Milk and juice cartons, once washed.
The recyclable list.
Paper
Newspapers 
Magazines  
Junk Mail
Phone Books
Catalogues
Tissue Boxes
Sugar Bags
Calendars
Diaries
Letters
Computer Paper
Used Beverage And Juice Cartons
Milk Cartons
Egg Boxes
Paper Brochures
School Copy Books
Old School Books (If They Cannot Be Donated Or Reused)
Paper Potato Bags
Cardboard
Food Boxes
Packaging Boxes
Cereal Boxes
Kitchen Towel Tubes
Toilet Roll Tubes
Please remove any plastic inserts from cardboard boxes before placing into bin
Aluminium cans
Drinks Cans
Empty Deodorant Cans (Plastic Lid Separate)*
*Please check that your individual waste contractor will accept this material
Steel cans
Pet Food Cans
Food Cans
Biscuit Tins
Soup Tins
Plastic containers (PET 1)
Mineral Bottles
Water Bottles
Mouth Wash Bottles
Salad Dressing Bottles
Plastic containers (HDPE 2)
Milk Bottles
Juice Bottles
Cosmetic Bottles
Shampoo Bottles
Household Cleaning Bottles
Laundry Detergent Bottles
Window Cleaning Bottles
Bath Room Bottles
Containers should be empty when being placed into recycling bin
Plastic containers (PP 5)
Yoghurt Containers
Margarine Tubs
Rigid Food Packaging
Liquid Soap Containers
Fruit Containers (With Netting Removed)
See www.repak.ie for a full list.
What's NOT allowed in the green bin
It's especially important to know what to leave out. These items shouldn't be in your recycling bin:
Contaminated Packaging (greasy, dirty or with residue). like we said above. (Cut out contaminated areas if you can)
Non recyclable plastic wrappings, like sweet wrappers, Tayto bags, plastic shopping bags. These plastics are not recyclable or can damage the recycling processes used for other recyclable plastics.
Nappies and Sanitary Products, medicines, medical waste (including baby wipes) – put in the residual waste bin
Food Waste (raw or cooked) – put in your food waste bin (if there is a collection) or compost the cooked food in your composter.
Grass, Garden Cuttings / Soil – put in your composter.
Polystyrene (EPS) – there may be separate collection or bring to your civic amenity centre.
Liquids/ Oils – bring to your civic amenity centre.
Textiles – including clothes/shoes and home furnishings – bring to your civic amenity centre.
Dismantled Furniture – bring to your civic amenity centre
Light Bulbs, Batteries &Electrical and Electronic Equipment (remove the plugs and re-use them)
Other General waste that should be in the General waste Bin. e.g. building rubble
So there you have the list and you know what to do. So do you still think you're working for the recyclers, for free? Let us know your thoughts on our FB page .