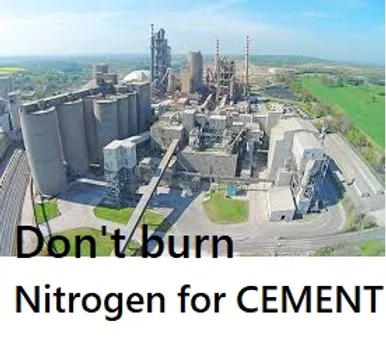 PLATIN: We're concerned that this project will stop us recycling
Phosphorus and Nitrogen are needed to grow food, not burn as Fuel for Cement kilns.
Zero Waste Alliance Ireland (ZWAI) are very concerned at the use of recyclable materials as Refuse Derived Fuel (RDF). We know that this is a dangerous manner of turning Landfill materials into Skyfill pollution. Cement kilns are not designed to manage in an environmentally safe manner the pollutants that arise from the burning of a mix of recyclable and landfill bound materials. We have objected to An Bord Pleanala when such BAD IDEAS are proposed, most recently in Limerick and Duleek.
We made an additional Oral Submission to the Inspector of An Board Pleanála on the 22nd November 2017 in regard to the Platin Cement Proposal. It is a 10 year permission to facilitate further replacement of fossil fuel with alternative fuels (RDF) and allow for introduction of alternative raw materials in the manufacturing of cement at Platin Works Platin, Duleek, Co Meath
ZWAI are an advocacy group promoting ways to recycle & recover materials and keep resources away from waste disposal so that they can be sustainably recycled. We are particularly concerned about materials that are finite or are limited in their natural availability. So naturally, we question the wisdom of burning materials at the Platin Cement Kiln that in particular contain phosphorus and nitrogen.
You can read our Oral Hearing submission here.
Valuable Nutrients are lost.
The waste categories listed by Irish Cement below are proposed to be incinerated in the cement kiln. Initially almost all of these originally required the use of Natural Gas or Coal to make the ammonia fraction of fertilizer for their growth. By burning in a cement kiln, Phosphorus will be wasted and will not be recovered. This is an essential element that is necessary for fertilizer to produce food.
Categories of waste that are proposed to be burned at Platin cement factory
| CLASS | DESCRIPTION |
| --- | --- |
| | |
| 02 01 02 | animal-tissue waste |
| 19 08 05 | sludges from treatment of urban waste water |
| 02 01 03 | plant-tissue waste |
| 02 01 06 | animal faeces, urine and manure (including spoiled straw), effluent, collected separately and treated off-site |
| 19 12 06 | sludges from on-site effluent treatment other than those mentioned in 19 11 05 |
| 02 03 05 | sludges from on-site effluent treatment |
| 19 08 05 | sludges from treatment of urban waste water |
| 19 08 12 | sludges from biological treatment of industrial waste water other than those mentioned in 19 08 11 |
| 19 08 14 | sludges from other treatment of industrial waste water other than those mentioned in 19 08 13 |
Zero Waste Alliance Ireland(ZWAI) demands that Sewage Sludge or any of the other similar categories listed by "Irish Cement" that contain Nitrogen and Phosphorus should not be burned in the cement kiln for the following reasons:
The Fossil Fuels (Natural Gas and Coal) that are used to make ammonia gas for fertilizer are finite and will eventually be depleted. We must reduce significantly the greenhouse gas emissions associated with the making of ammonia fertilizer. Any finite material must instead be recycled.
The Burning of Nitrogen (Ammonia) and its loss to the atmosphere results in this resource being no longer available to farmers as part of the fertilizer to grow food.
The emission of NOx will cause ozone in sunlight conditions. At ground levels ozone will cause ambient air pollution and should therefore be avoided.
The energy of the Nitrogen (Ammonia) recovered in the Cement Kiln will not replace or be equal to the total energy required for its original manufacture, its processing as an NPK fertilizer, its transport around the world or the energy for its application on farms.
Because the nitrogen is not being recycled locally to grow food it forces the continuation of this very wasteful energy intensive Harber & Bosch method that is depleting the remaining finite resources of natural gas. This failure to recycle nitrogenous waste as a fertilizer is not sustainable.
The Green House gases that are generated by the manufacturing of Ammonia using the Haber & Bosch process contribute to climate change and must be reduced and eventually avoided.
Phosphorus fertilizer is likely to become expensive in Europe, India and other parts of the world over the coming 20 to 40 years as the resources of the USA and China, two of the three remaining countries with phosphorus rock begin to protect their own national supplies. When "peak phosphorus" is upon us and world demand is greater than the supply then no nation will have cheap phosphorus to sell to Ireland. Unless we recycle nutrients of nitrogen and phosphorus, food prices in supermarkets that are based on fossil fuel and mined phosphorus fertilizer will become volatile, then more expensive, then affordable and eventually will not be for sale at all.
Phosphorus is a finite resource that can be replaced by no other element. If burned in cement kilns this strategically important resource will be lost and wasted forever. We must therefore recycle Nitrogen and Phosphorus. We must avoid the possibility of a world population collapse.
We ask An Board Pleanála to prioritize the long term public interest and put this above the private short term interests of a private business. It is not in the public interest that we should ignore the need for future food security.