Yesterday the RTE Investigates team (Karrie Kehoe and Conor Ryan) revealed what is already a commonly known fact. Our Councils and the EPA are simply not policing our Waste regulations to the level required. Illegal dumping is pervasive.
Illegal dumping – the revelations.
The RTE  programme 'Ireland's Wild Waste Programme' makes for stark viewing. There appears to be tacit local acceptance of 'Waste cowboys'  who pay scant regard to regulations, the need for licenses and permit conditions. The TV programme has  thought provoking contributions from inter alia, Jack O'Sullivan (Director ZWAI) and  Attracta Ui  Bhroin (IEN, ELIG).  It is well worth a view, however frustrating it may be to watch.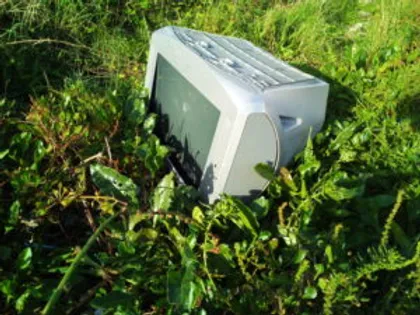 It's free to recycle so why dump it?
Illegal dumping is widespread but many sites are still unreported. Ask people locally and they will point you at suspect fields, disused quarries and abandoned warehouses. In fact, RTE could screen a weekly 60-minute programme covering all 26 counties and still have more material than they could fit in. This does not even consider the EPA air pollution monitoring stations. This is another unreported resource starved area.
Illegal dumping – the Long-term impact
The dangerous and criminal activity that is illegal dumping (on any scale) is socially unacceptable. It pollutes the environment (land water, air, habitats), damages our health and food and undermines the law respecting, permit compliant, legitimate Waste Management businesses. Of more concern is that the illegal waste dumping activities undermine the cost structures that make Recycling, re-manufacturing, Composting an economically viable activity. If it's very cheap to simply illegally dump then legitimate treatment and recycling charges cannot compete. In the end, however, it's the Irish taxpayer who is left to foot the cleanup bill. (Remember the Irish Steel site remediation in Hawlboline, Co Cork? Cork Co Council pick up the large tab for this cleanup left behind by Irish Steel and Irish ISPAT).
We rely on their local authorities to regulate, monitor and enforce but we are being badly served by the results.
Resources are key.
The budgets and resources allocated to Waste enforcement are simply not enough to police the level of non-compliance that is rampant here. Politicians and Government must take the blame for this and provide funding to adequately resource the enforcement measures we need. Europe has given us the directives to transpose. We do it late or slowly but we must then enforce the rules. Resources must be provided to enforce, prosecute and police the rules. We need action, not just outrage, and we need it now. According to official statistics supplied to the Environmental Protection Agency, our local authorities altogether employ just 150 people nationally to regulate and enforce its part of the waste sector. These employees, do not work collaboratively between councils routinely and must
regulate more than 6,000 licensed waste operations in the state ;
carry out more than 25,000 inspections each year,
initiate more than 4,000 enforcement actions and
pursue close to 400 prosecutions for waste related crimes annually.
See map of who spends what here.
This is just the tip of the iceberg. If there were more resources there would be more inspections, more unlicensed operations uncovered, more enforcement actions and more prosecutions. The result, maybe a cleaner, safer country with a few 'Waste Cowboys' in Gaol.
YOUR NEXT ACTION.
Use your frustration positively. Let your local Councillor know how you feel about their cavalier attitude to our shared environment, especially those councils with a low spend (see map).
Be alert. Don't just assume a dumping activity has a permit. The one thing you can do is report suspected illegal dumping, emissions, spillages etc to your Local authority and the EPA via the National Environmental Complaints Line.
Members of the public can report pollution or illegal dumping via this 24 hour lo-call telephone number 1850 365 121.