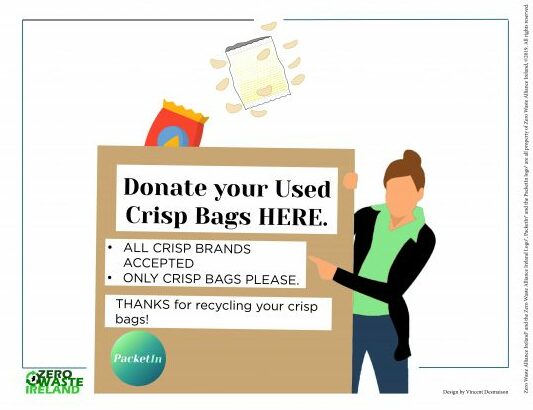 I enjoy a tasty crisp occasionally.
The flavours have really expanded in recent years with the arrival of new brands on the market. They offer a great variety and have driven every producer's offering up a notch. Rarely do we get a bad quality crisp or a packet that fails to deliver fresh crunchy taste. That's due to the very high tech that's gone into the material used to make these crisp packets that keep the crisps in prime condition until they reach our hungry mouths. Yumm!
That's great for us consumers. But, there's a downside that we don't often ponder as we savour our favourite crunch watching the telly or maybe in the car stuck in traffic. What really happens to used crisp packets when we're done? The eco-conscious among us will normally put them in a recycling bin with other packagings like plastics, cardboard and paper, thinking they will be recycled. But alas, that is not so for our crisp packets.
Currently we have no facility capable of recycling crisp packets in Ireland.
Why have we no recycling for crisp packets?
Why is this? The inside of conventional packets look like foil but in reality, they are a metallised plastic film. This compound material retains freshness & moisture. Ideally, the packets will be made of biodegradable or compostable materials in the future and we will not have this problem.(research is ongoing and we will talk some more on this in other blog pieces).
But for now, we have to deal with the current situation. The metal needs to be separated from the PET plastic to recover both materials and we have no such technical facility in Ireland at present. It's not economically viable with our volumes. That's why Repak has said that no crisp packets are recyclable and should be put in the rubbish, not the recycling bin. The MRFs simply pick crisp packets out from the recycling streams and discard with other waste bound for burners or landfills.
Soft plastic is not currently accepted in the recycling bin – please place in the black bin
What can you put in your recycling / green bin? You can only place rigid plastic, cardboard, paper, food and aluminium cans in the recycling bin. These should be clean, dry and loose – please remove any food residue or liquids. …..
Our Solution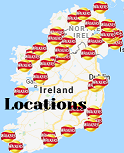 Locations are growing why not add your own?
Luckily the UK has such specialised facilities and we've teamed up with an organization that deals with these hard-to-recycle materials, TerraCycle. Together we can get all these crisp packets recycled by shipping them to the UK for re-processing. (maybe soon we will have a large enough volume for our own facility in Ireland.) Once collected, we separate the crisp packets by plastic-type, clean them, and extrude into plastic pellets to make new recycled products. 
What's the goal?
TerraCycle's goal is to focus on hard-to-recycle materials such as the current type of single-use Crisp packets. They apply circular technology solutions for an otherwise linear system of Take, Make and Forsake. The result: we keep crisp packets out of our landfills and incinerators. Join our Crisp Packet #PacketIn scheme and play your part in recycling these bags. It's easy and free to start you own collection point. Just register your location and start collecting.
Shipping is free. Go here to start right now.